GameFi.org is honored to be the platform supporting the potential and unlisted web3 gaming projects from Icetea Labs Accelerator Program (ILAP). Here comes a precious chance for GameFi.org community to receive tokens without payment - IFO. Let's find out more information about the IFO as well as the projects joining.
GameFi.org x Icetea Labs Accelerator Program (ILAP)
Icetea Labs Accelerator Program (ILAP) is an 08-week program designed to transform Web3 Startups through a thorough review process and hands-on 1-1 mentoring. Selected startups will have chances to work directly with industry-recognized mentors, VCs, and partners. The program is tailored for MVP-ready startups in 3 key areas: Gaming, Metaverse, and NFT Financialization.
Hai Duong - CTO of GameFi.org, Senior Manager & Technology Consultant at Icetea Labs is honored to be one of the prominent mentors at ILAP.
👉🏻 Let's have a look at ILAP partners, funds, and mentors:
Hashed, Protocol Labs, GameFi.org, Global Founders Capital (GFC), Polygon, KuCoin Labs, Saison Capital, Crypto.com Capital, Shima Capital, ByBit, DAO Maker, Avocado DAO, Certik, and many more partners.
What is IFO?
IFO stands for Initial Fan Offering - a new term owned by Icetea Labs and is an exclusive program for its community. Joining IFO, users only have to stake selected tokens in the IFO pool and complete default tasks to have chances to earn valuable rewards. With the slogan "Initial Fan Offering - where project tokens are awarded to the real fans", the program targets actual users who would like to support projects at the IFO.
👉🏻 IFO official channels: Website | Global Chat | Telegram Announcements |
Unlike IGO where users apply whitelist and gain allocation to join Token sales, they can take part in IFO freely without allocation. All users need is staking tokens and finishing several tasks. The gifted tokens depend on some criteria and users' performance from each IFO pool.
The program is launching its IFO Airdrop campaign. Explore here.
💥💥 In the first-ever IFO pool, users will stake $GAFI and gain the opportunity to have tokens from projects joining IFO.
Projects Joining IFO
In the first IFO, the top 6 shortlisted web3 gaming projects were hand-picked from over 250+ applications. They are potential projects which excellently overcome our vetted selection and attract the most attention of communities. Let's explore who they are:
How $GAFI stakers gain benefits from IFO?
No payment needed: Users do not have to make any payment since they will have tokens/rewards from projects in the IFO.
Enormous profits: The rewards are worthwhile tokens from potential blockchain projects that may give users good profits and even huge returns once the tokens are listed.
Easy participation: By staking $GAFI in the IFO pool and completing default tasks, users can take part in the IFO without any difficulty
The first-ever IFO with $GAFI staking is coming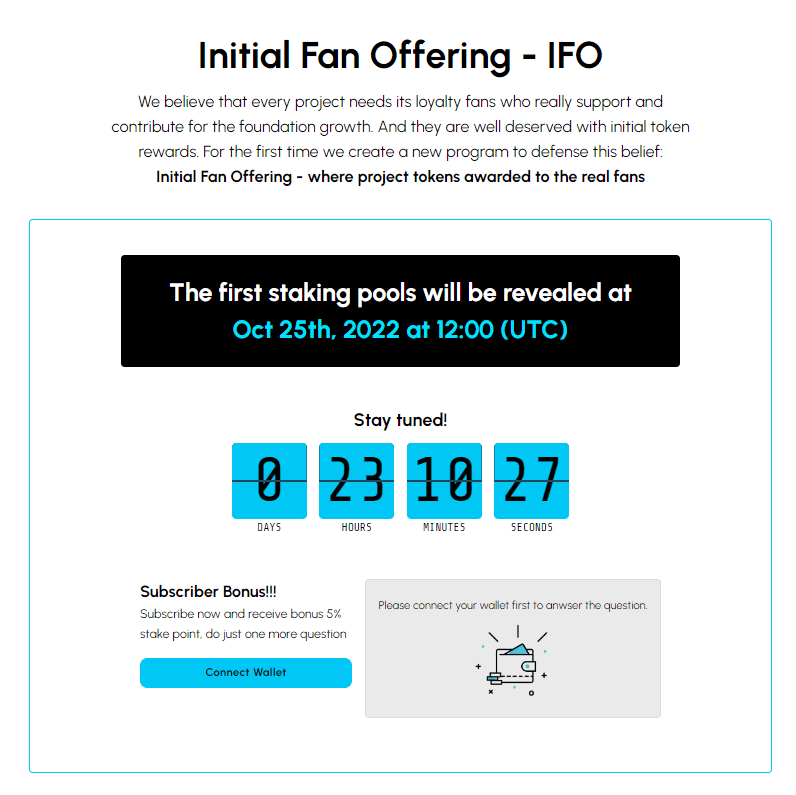 The first $GAFI staking pool in IFO will be open at 12:00 UTC on October 25, 2022. Users can connect wallet, subscribe, and receive a bonus of 5% stake points.
There will be an Early Bird pool for the first users with more benefits. Let's stay tuned and wait for what you can expect from the IFO.
About GameFi.org
GameFi.org is a one-stop destination for web3 gaming. We aim to build digital communities and manage virtual economies for mainstream adoption. GameFi.org offers a suite of solutions covering the entire games and gamified projects' lifecycle, following a vision of one digital platform, and one virtual identity requiring zero blockchain knowledge. Visit https://gamefi.org/ for more information.
Twitter | Telegram Channel | Main Chat | Discord | Facebook | LinkedIn | YouTube